Batavus are a type of Dutch bicycles.
Cambridge
Blockbuster
Flying Dutchman
Old Dutch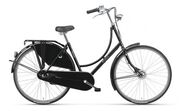 Batavus have been building this beauty since the early 1900s! While the 2015 model comes packed with all latest in gears, brakes and lights – it's still a Dutch classic. Often copied, but if you want the real thing, there here it is!
[1]
Blockbuster
See also
References
External links
Ad blocker interference detected!
Wikia is a free-to-use site that makes money from advertising. We have a modified experience for viewers using ad blockers

Wikia is not accessible if you've made further modifications. Remove the custom ad blocker rule(s) and the page will load as expected.